Jewel Arts masters the art of jewelry making. It specializes in manufacturing 18K gold and platinum diamond and gem set jewelry. Diamonds and gems of fine quality are carefully selected to meet the standard in the high end market.

Each piece of jewelry is given heart and soul with excellent craftsmanship by experienced workers along with innovative machinery and technology which turns gold and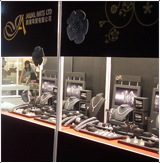 stones into the very form of beauty, bringing precious messages and memories into wearers' lives.
The company takes pride in offering customers a wide range of products which suits their needs. From small twinkling pieces to dazzling body adornments like necklaces, either its creative and stylish designs or the flexibility tailor make upon request never stops giving customers amazement.

About 4000 to 5000 pieces of jewelry are launched every month, showcasing in exhibitions worldwide that Jewel Arts participates annually, impressing visitors and attracting customers of different tastes, demands and interests.

The Jewel Arts team serves customers from around the world with dedication and integrity, it thrives to ensure their satisfaction with both the value and quality of products at a reasonable pricing. On-time delivery and short lead time is the key of its efficient service. Come and visit Jewel Arts at the coming exhibitions to find out for real.